For sale: Lovely Italian Greyhound, Lightning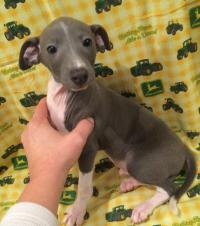 Meet Lightning, our 3 month old Greyhound baby! We are looking for a new owner that would treat him as their own. We are already keeping the 2 puppies and the 2 are already sold fast. It breaks our heart to let this one go but this baby is the most independent of them all. We are confident that he'll adapt to a new environment easily.
Lightning is very gentle, noble, and oh so sweet, but intense when on the run - very active and playful! Which makes him very good with children.
If you're someone who is looking for a lovely active companion! Message me for details!
---